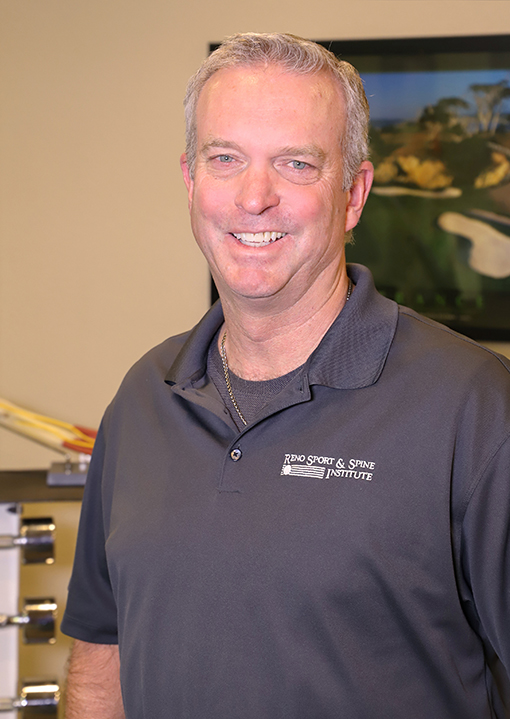 Bradley J. Sidener, PT, Cert. MDT
Brad Sidener is the founder and president of Reno Sport and Spine Institute, opening its doors in March 1990. He had earned his Physical Therapy degree from California State University — Fresno in 1987; after completing his undergraduate work at San Joaquin Delta College and San Francisco State University. Brad completed his post-baccalaureate and credentialing by the McKenzie Institute, USA and in 1995 became one of the first physical therapists in Nevada to achieve Board Certification in Mechanical Diagnosis and Treatment of the Spine (Cert. MDT).
Brad enjoys working with athletes of all ages and backgrounds. Through motion analysis, manual therapy, specific therapeutic exercises, and neuromuscular re-education, he takes great pride in helping his patients return to or exceed prior levels of function and efficiency. He utilizes this athletic rehabilitation approach, not only with his athletes, but also the general orthopedic patient, the injured worker, and post-surgical patient.
Brad's community activities have been extensive, as he has been a member of the Reno Rodeo Association since 1990 and served as President of this prestigious organization in 2017. Throughout his career, Brad has worked with the athletic teams of several high schools in the community. He has been an integral part of the Galena High School Sports Medicine Team for close to 20 years. On any given Friday night during the fall he can be found on the sidelines of a Grizzly football game and can easily be found in the baseball dugout throughout the spring. He has coached and served on the board for Reno Continental Little League and Muckdogs Baseball Club.
Brad takes great pleasure spending time with his wife, three grown children and his grandson. He enjoys doing anything horseback including team roping and cattle ranching. Additionally, he enjoys scuba diving and an occasional game of golf.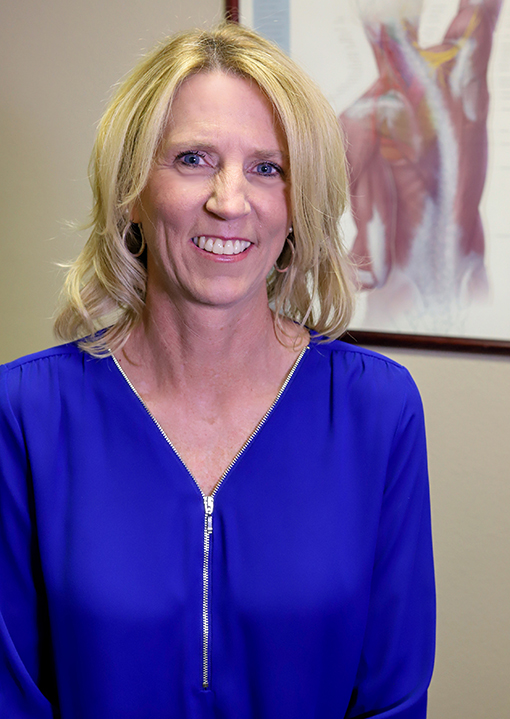 Kathy Sidener, PT, Cert. MDT
Kathy Sidener is a native Nevadan who has enjoyed completing her professional career in the Reno-Sparks area. She completed her undergraduate work at the University of Nevada before receiving her Physical Therapy Degree from the University of Utah in 1985. Her early work in the field was in the areas of neurological rehabilitation and pediatrics. Within a couple of years, she transitioned into orthopedics and has helped build and expand Reno Sport & Spine Institute since 1996.
Kathy was credentialed by The McKenzie Institute, USA in 1995 and emphasizes this approach for mechanical diagnosis and treatment of the spine and extremities (Cert. MDT). She also treats the general orthopedic population and stays abreast of the latest treatment techniques for the ankle/foot, knee, hip, shoulder, spine and elbow patients. Education and preventative health care are the basis to her treatment approach. Kathy also has an interest in fitness especially as it pertains to the elderly population. In 2010, she completed her certification as a Certified Exercise Expert for the Aging Adult (CEEAA). 
Kathy has been active in the physical therapy community and held positions on the Executive Committee of the Nevada Chapter of the American Physical Therapy Association. More recently, she served two terms on the Nevada State Board of Physical Therapy Examiners.
When out of the office, she enjoys running, hiking and traveling. She is very proud of her two grown children and anxious to watch and see where their careers take them.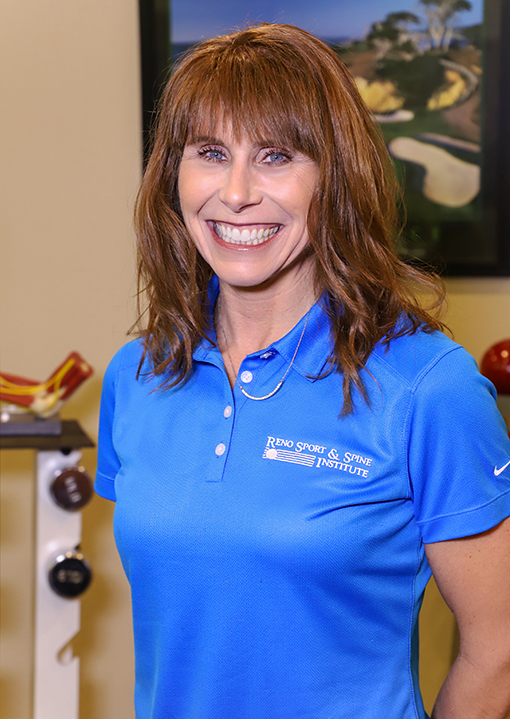 Karen Kottinger, PT, MPT, OCS, Cert. MDT
Karen Kottinger is a native Nevadan. She attended University of Nevada, Reno and attained her Bachelor's in Science. She then attended Western University of Health Sciences; she received her Master's in Physical Therapy in 1997. Upon graduating, she moved to Dallas, Texas. She was the in-patient coordinator, in addition to an out-patient orthopedic physical therapist at Trinity Medical Center (Carrollton, TX). She is currently the clinic director of the Double Diamond Athletic Club location (DDAC).
In 2002, Karen received her certification in the McKenzie method of mechanical diagnosis and treatment of the spine (Cert. MDT). In 2007, Karen became board certified in orthopedic physical therapy. She attends many courses to stay current with effective treatments for the shoulder, elbow, hip, knee, and foot, in addition to the spine. Courses have included treatment in osteopathic approaches utilizing muscle energy techniques and strain/counter-strain. She also completed a yearlong course in the Australian Approach to Manual Therapy. All patient treatments are specific to the needs of the patient. Her treatment philosophy is education based, realizing that prevention is just as important as alleviating what ails today.
Karen also received her Certified Strength & Conditioning Specialist certificate from the National Strength & Conditioning Association. Karen has been involved in the Nevada Chapter of the American Physical Therapy Association (APTA) since 1998. Nevada Chief Delegate to the APTA's House of Delegates (2001). She served as Public Relations Chairman (1998-2002), the Board Member at Large (1999-2001), and also Membership CO-Chairman (2003-2005).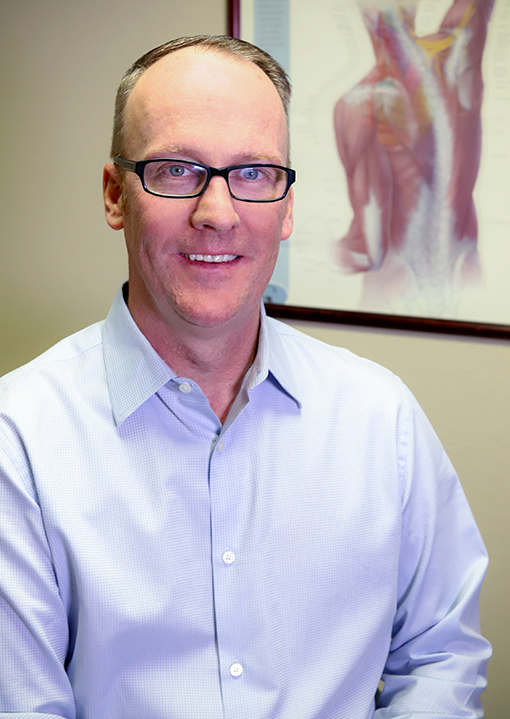 Mike Barry, PT, MPT, OCS
Mike is a 
fifth
generation Nevadan born and raised in Reno, graduating from McQueen High School. He has been practicing physical therapy since 1997 and has been with Reno Sport and Spine Institute since 2001. He graduated from the University of Nevada in 1994 and received his Master's degree in Physical Therapy from Northern Arizona University in 1997. Prior to joining RSSI, he was a staff therapist in Portola, California for 4 years where he gained invaluable experience practicing the spectrum of physical therapy: acute hospital, outpatient orthopedics, and home health. Mike was board certified as an orthopedic specialist by the American Board of Physical Therapy Specialties in May 2009.
His continuing education recently has focused on current trends in the prevention and treatment of knee and shoulder injuries, while also focusing on manual therapy techniques for the spine. Combining his clinical practice experience, continuing education, continued clinical reading, and self-treatment of his own injuries, Mike has established a well-rounded approach in treating various neuromusculoskeletal injuries and stresses the importance of prevention, therapeutic exercise and self-management of one's injuries.
In his leisure time, Mike enjoys spending time with his wife and two sons in the outdoor areas of the Sierras and Plumas National Forest. A washed-up-has-been high school and college intramural athlete, Mike now enjoys snowboarding, mountain biking, hiking, following and watching his sons compete at the local high school baseball level, and an occasional round of golf.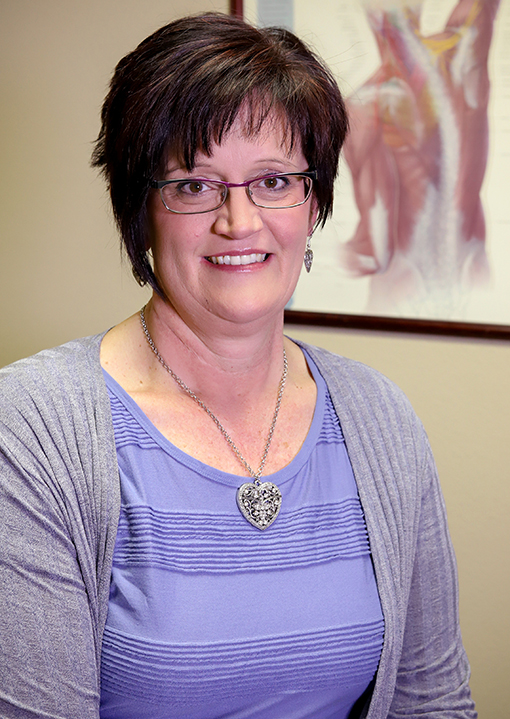 Marla Brennan, PT, MPT, Cert. MDT
Marla grew up in the Reno area, attending local schools, graduating from the University of Nevada, Reno in 1992. Marla graduated from DeAnza College in 1997 with honors. Upon graduation, she returned to Reno working in a variety of inpatient and outpatient facilities. Marla has worked at Reno Sport and Spine Institute since 1998. In January 2007, Marla returned to school at the University of Findlay; Findlay, Ohio to advance her education; she received a Master's in Physical Therapy in July 2009.
Marla recently received her certification in The McKenzie Method for the neck, back, and extremities. Her primary focus with continuing education coursework is current concepts in orthopedic and sports injuries. Other coursework she has completed includes dysfunctions of the upper and lower quadrants, as well as shoulder, elbow and hand disorders. Marla believes it is important for the patient to be educated, receive as much information as possible and to take an active role in their rehabilitation.
Marla has been an active member in the American Physical Therapy Association (APTA) since 1995. In the past, Marla has held offices at the state and national levels; she remains active working on issues important to the field of physical therapy.
Away from the office, Marla and her husband, Sean, along with their son enjoy camping, golfing, hiking, and spending time with family and friends, in addition to their dog:  Mo.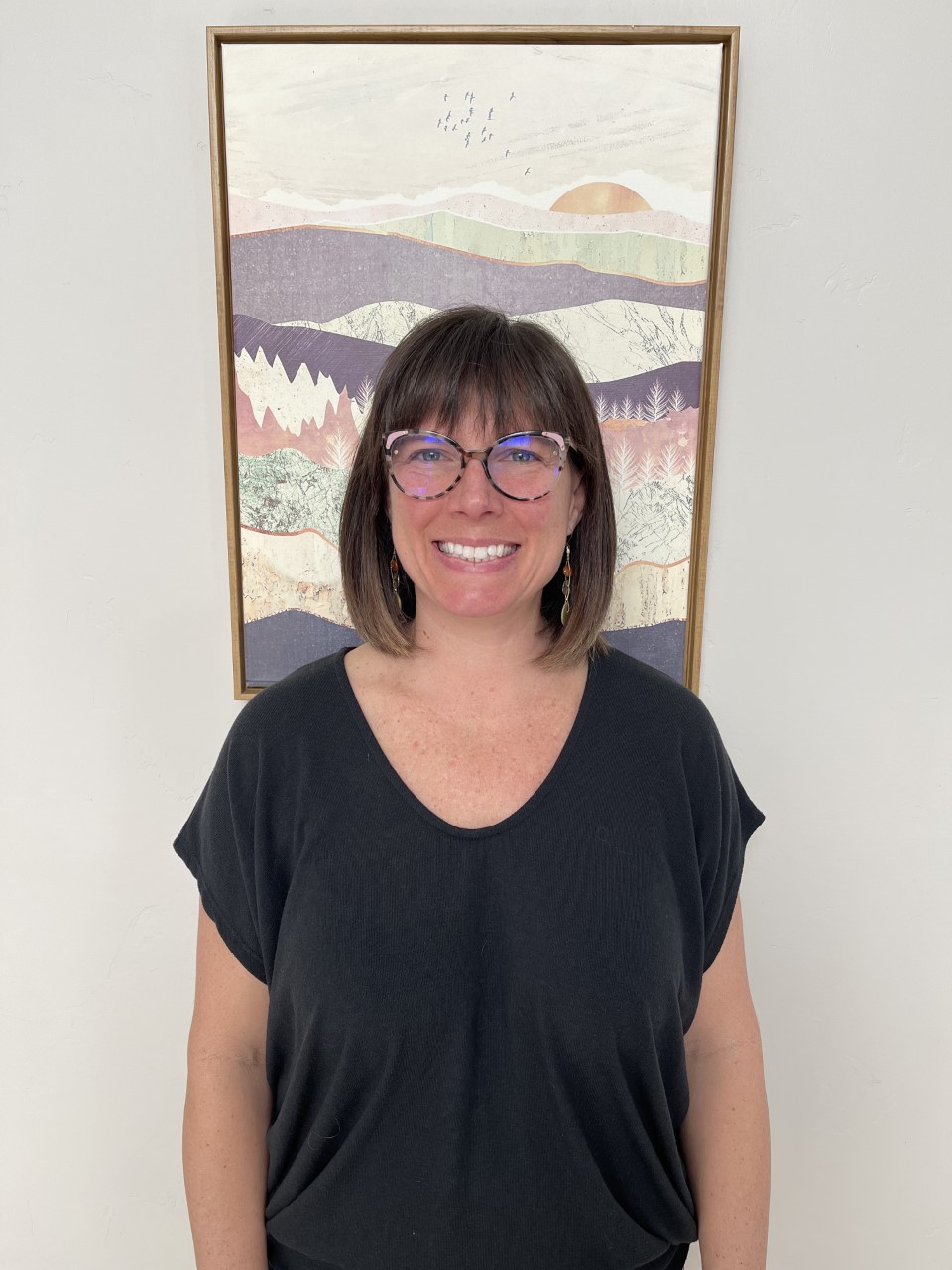 Katie Manning, PT, DPT
Katie Manning has enjoyed living in Reno since 2010. Katie is grateful to live in the great state of Nevada with all of the outdoor recreational activities and beauty. Katie's undergraduate studies took place at Kansas Wesleyan University where she received scholarships in both basketball and softball. This is when her interest in physical therapy sparked. She later graduated from the University of Nevada Las Vegas with her Doctorate of Physical Therapy in 2007 and has primarily practiced in an outpatient orthopedic setting. Katie prides herself with high quality hands-on care and feels manual based therapy is one of the most effective aspects at getting a patient better, faster. Katie specializes in joint mobilizations, muscle energy techniques, soft tissue mobilization, myofascial work, spinal and pelvic alignment correction, and patient specific therapeutic exercise and activity. She is a certified clinical instructor and focuses all of her clinical applications to be evidence based. Katie also believes that an individualized home exercise program will not only compliment patients in clinic therapy sessions, but will add value long-term, and keep symptoms at bay.
Katie spends her free time with her native Nevadan husband and three children who enjoy boating, camping, snow sports and staying active all four seasons, rain, snow or shine. A healthy and physical lifestyle is very important to Katie and this is evident in her passion to get her patients to do likewise.
Alison Olsen, PT, MPT, Cert. MDT, ATC
Alison is a native Nevadan who attended the University of Nevada and received her BS in 1990. While at UNR Alison worked as a student Athletic Trainer and had the opportunity to work with student athletes from various sports assisting with injury prevention, sideline care and rehabilitative activities. She completed her Athletic Training Certification in 1990 and maintained her certification for 29 years.
She went on to complete her Master's in Physical Therapy at the University of California, San Francisco in 1994. She then went to work for Scottsdale Memorial Hospital where she rotated through all of the rehab department assignments including ICU, acute and sub-acute rehabilitation, wound care, trauma/post-op, home health and outpatient rehab. She then moved back to Reno where she continued specializing in outpatient rehabilitation further specializing in treating the spine, extremity injuries along with vestibular dysfunction. In addition, she does ergonomic evaluations and has co-led a zoom Tai Ji Quan: Movement for Better Balance course.
She holds certifications with the McKenzie Institute in the Mechanical Diagnosis and Treatment for spine and extremity disorders as well as through the American Institute of Balance for treating Vestibular and Concussion Diagnosis. She is certified in Advanced Office Ergonomics with a AOEAS from the Back School and performs Ergonomic evaluations. Alison has also certified as a community instructor in Tai Ji Quan: Movement for Better Balance.
She prides herself on her ability to communicate with patients about what they are want to achieve and utilizes patient education in addition to the techniques most suited for each case. She draws on her sports background and its heavy emphasis on return to function with all her patients and sees them all as "athletes". Her philosophy is that all patients should be treated to their potential and not by their diagnosis.
When she is not treating patients, she loves spending time with her family and friends. She enjoys outdoor activities such as running, skiing, hiking, and paddle boarding. She loves to travel and enjoys artistic outlets such as pottery and painting.
Marissa Elquist, PT, DPT
Marissa is a 5th generation Nevada native. She grew up in Elko where she was very involved with sports and developed a love for staying active and being outdoors. She graduated with honors from the University of Nevada, Reno in 2017 with a Bachelor's of Science in Community Health Science. She then attended the University of Nevada, Las Vegas where she received her Doctorate of Physical Therapy in 2022 and was inducted into the National Physical Therapy Student Honor Society. 
Marissa first joined the physical therapy field as a PT tech at RSSI. After graduating, Marissa was excited to have the opportunity to move back north and re-join the team at RSSI!
In her free time, Marissa enjoys traveling across Nevada with her dog to visit family and spend time hiking, camping, and fishing.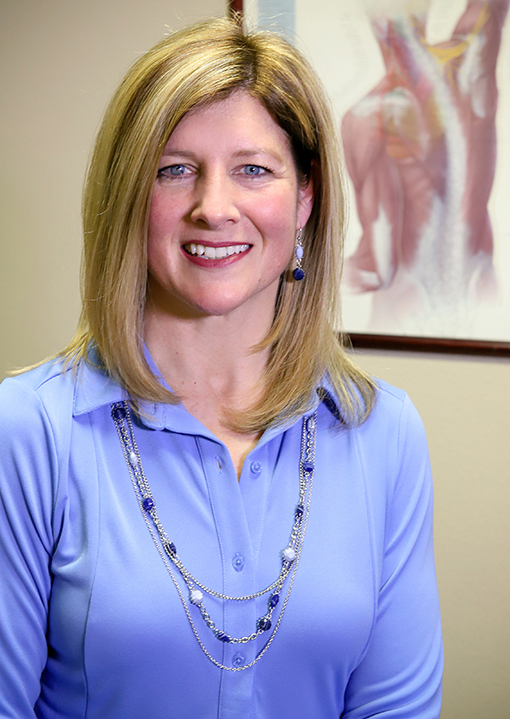 Erika Williams, PT, MPT
Erika Williams grew up in Carson City, Nevada with a love for health, nutrition, fitness, and helping others. She attended the University of Nevada in Reno and completed her undergraduate degree in Health Sciences in 1994. She went on to attain her Masters in Physical Therapy from Chapman University in 1998. Upon returning to her home in Reno, Erika pursued her physical therapy career in outpatient orthopedics joining the staff at Reno Sport and Spine in 2015.
Over the course of her career, Erika has received her certificate in Pilates-based rehabilitation. She has also completed extensive coursework in manual therapy of the spine, pelvis, shoulder, and knee, and in the McKenzie Method of Mechanical Diagnosis and Treatment of the spine and extremities. She prides herself on her manual skills and her ability to incorporate them into a comprehensive treatment program. Erika believes that patient education is key to fostering independence. Therefore, she is dedicated to ensuring that her patients understand how to move their bodies for optimal function and injury prevention. She is committed to giving personal attention and providing individualized care to each patient.
In her free time, Erika enjoys spending time with her husband and two daughters traveling and enjoying the outdoors. She continues to pursue personal wellness and fitness and aims to inspire others to do the same.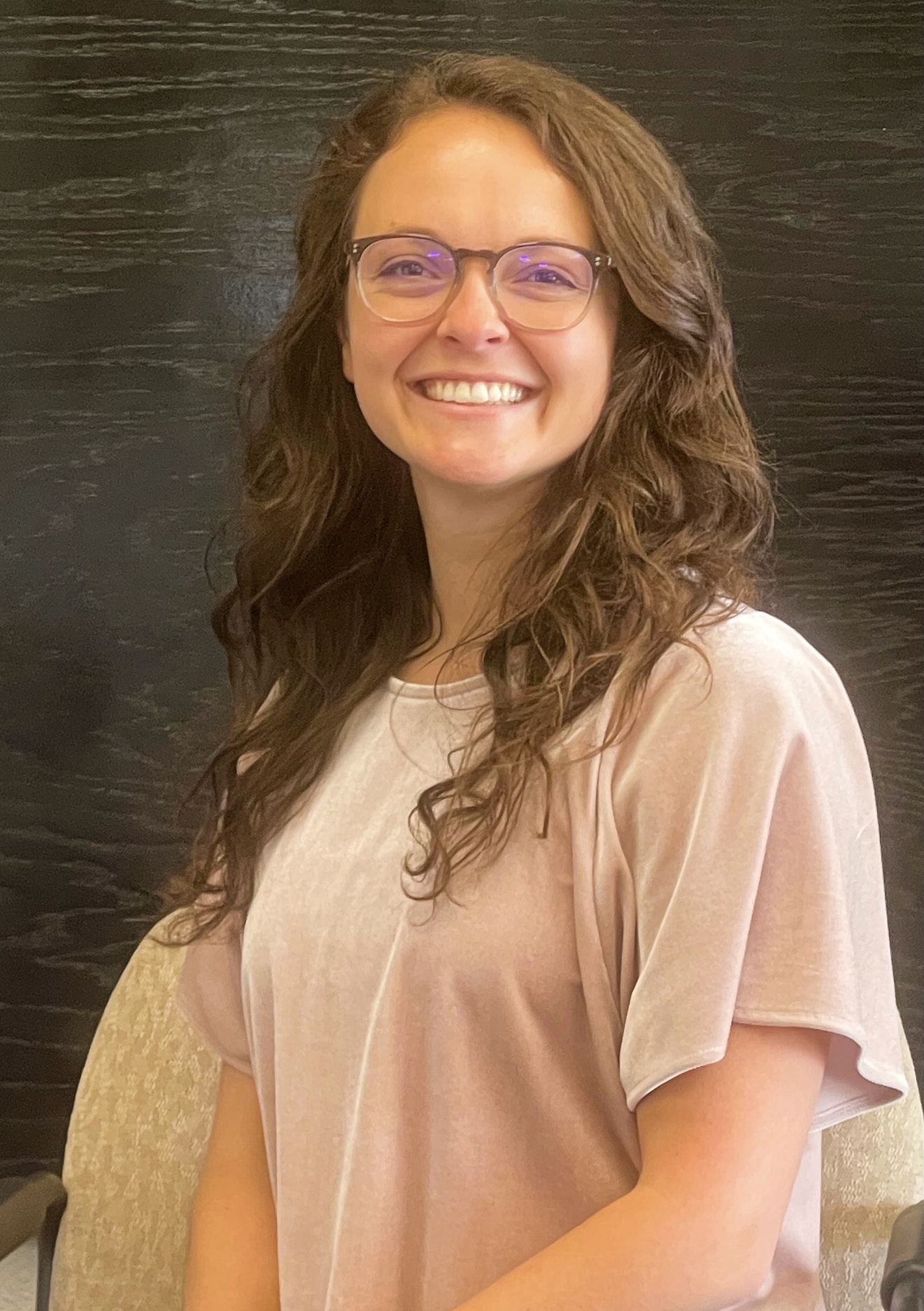 Jill Milke, PT, DPT, OCS
Jill is a Reno, Nevada native, graduating from Reno High School and receiving her Bachelor of Science in Neuroscience here at the University of Nevada Reno in 2015.  Jill then spent a year traveling Europe where she learned and gained perspective from different cultures. She went on to Denver to pursue her Doctor of Physical Therapy Degree at the University of Colorado Anschutz Medical Campus. While in PT school, Jill was highly active in her program and community. Jill championed a philanthropy committee, directed a student-run free healthcare clinic, and spent time in Nicaragua learning about physical therapy in different cultures.
After becoming a Physical Therapist, Jill continued her education by pursuing an orthopedic residency in Austin, Texas and obtained her OCS (orthopedic clinic specialist) certification.  She practiced in Texas for 2 years with an emphasis on learning communication and emotional intelligence skills to better serve her patients. It was here that she developed a passion and skill set for serving patients experiencing complex and chronic pain syndromes including: CRPS, fibromyalgia, POTS, DISH, and other misunderstood or undiagnosed pain.
Jill eventually found her way back home to Reno when the pull of family and a mountainous environment became too strong. When she is not nerding-out on the science of pain, you will find her spending quality time with her family or skiing, biking, and hiking in the Sierras. Jill started her journey in the field at RSSI years ago as a PT tech and is thrilled to be back with a team whose experience and expertise are unrivaled.
Taylor Souza, PT, DPT
Taylor is a native Nevadan as he was born in Carson City and raised Gardnerville, Nevada. Being involved in many sports and outdoor activities throughout his childhood and young adult life he grew a strong passion for fitness, health, helping others, and the amazing intricacies of the human body.
He graduated from the University of Nevada, Reno in 2018 where he received his Bachelor's in Community Health Science with a specialization in Kinesiology. Taylor then attended the University of Nevada, Las Vegas where he received his Doctorate of Physical Therapy in 2022. While in school he gained invaluable experience treating patients across the life span with orthopedic injuries and balance impairments. While in the last year of school Taylor joined RSSI family as a student where he diligently studied and treated patients alongside and under the guidance of our numerous experienced Physical Therapists.
In his free time, Taylor enjoys all the seasons Northern Nevada has to offer. During the summer months you can find him hiking around the Lake Tahoe Basin with his wife Jessica and his Border Collies Ginger and Asher. While the snow is flying, Taylor spends his winters snowboarding on the slopes of Heavenly, Kirkwood, and Northstar.
Kiley Richards, PT, DPT
Kiley is a native Nevadan as she was born in Reno, Nevada. She grew up playing multiple sports and developed a passion for living an active lifestyle and working with athletes and other active individuals of all ages.  
Kiley graduated from Pacific University in 2018 with a Bachelors of Science degree with an emphasis in exercise science. She then attended Touro University Nevada where she graduated in 2023 with her Doctorate of Physical Therapy. While in school, she gained experience in working with patients with a variety of orthopedic injuries and neuro related diagnosis. Kiley has a unique background in pediatrics and is excited to work alongside a team with such immense knowledge and expertise. 
In her free time, Kiley enjoys staying active and watching any sports games she can find. She also enjoys snow shoeing and skiing with family and friends in the winter, and playing golf during the spring and summer. 
"The physical therapists are excellent!"
"I wouldn't be walking, running and playing without them.  Brad and Kathy have built an outstanding physical therapy business.  Each therapist has your best interest in your health and mobility.  I've seen young and most importantly the elderly walk better and improve their balance.  Do yourself a favor, if you want the best treatment go there!"
-Sandy G.
"They are caring, compassionate and want to help you succeed."
"They are flexible with scheduling and make it easy to get in.  They truly care about your recovery and want to see you get back to an active lifestyle.  I truly appreciate the staff here and am thankful to have such wonderful therapists in our community."
-Jerika R.
"The Reno Sport & Spine team is amazing."
"I am grateful to them for their skills in helping me completely recover from hip replacement surgery. You notice right away when you visit that they are a great team of people who truly care for each patient. Their ability to stay positive and help each patient focus on making progress is remarkable given that most patients walk through the door in pain and not always looking forward to therapy."
-Paul C.
Self Referral - Direct Access State
Nevada is a direct access state which allows patients to be seen by a licensed physical therapist without a physician referral.  Certain insurance companies or plans, however, require a physician referral for payment.  Please check with your individual insurance company if you aren't sure.